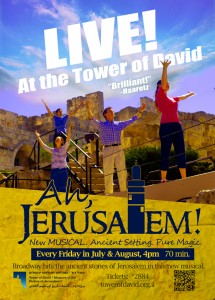 ENCORE! DISCOUNT DAYS AT
AH, JERUSALEM!
FRIDAY, JULY 11 – 4pm
FRIDAY, AUGUST 15 – 4pm
You and any family or guests you want to bring enter for only 60NIS per ticket – Email your name, date, and # of tickets (up to 3 days prior) to ahjerusalemshow@gmail.com, and pay the Encore! discount price at the door.
Welcome to one of Jerusalem's newest attractions. If you take an incredibly rich archeological site in Jerusalem's Old City – the Tower of David, with remains from each period of Jerusalem history – and stage a new musical against that magnificent backdrop about a Jewish-American family's time-tripping experience in Jerusalem, that's
AH, JERUSALEM!
Be prepared to laugh. The chief writer – who also directed and co-produced – is Bernie Kukoff, former producer/writer for such shows as The Cosby Show and Diff'rent Strokes and producer of five Broadway/off-Broadway shows, including the second-longest-running musical in off-Broadway history (I Love You, You're Perfect, Now Change). Bernie is a New Yorker, a long-standing Zionist, and was thrilled to create this new work as a gift to the City of Jerusalem.
Be prepared to sing along. The composer-lyricist – who also music-directed and co-produced – is Jerusalem-based Danny Paller, whose original score combines a contemporary musical-theater sound with musical flavors from across the centuries.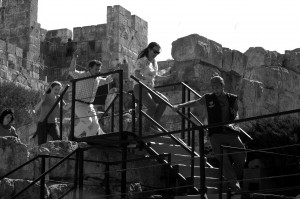 In the musical a Jewish family from Indianapolis – Charlie, Madeline, and their teen-age daughter Robin – unexpectedly end up on a strange "mission" in Jerusalem, for which they must make some challenging historical leaps with their gifted tour guide Shmulik
Along the way they find romance in the time of King Solomon, danger during the Crusades, and a "ticket to history" in a 1920s Jerusalem bus station.
"Delightfully entertaining" (Haaretz) "Filled with Jerusalem's spirit, history and sense of adventure" (Jerusalem Post) "Family-friendly energetic song-and-dance" (Times of Israel) "Perfect Jerusalem activity" (TouristIsrael.com)
"Worth preparing Shabbat early for one week" (Encore! Staff)
Running time: 70 mins