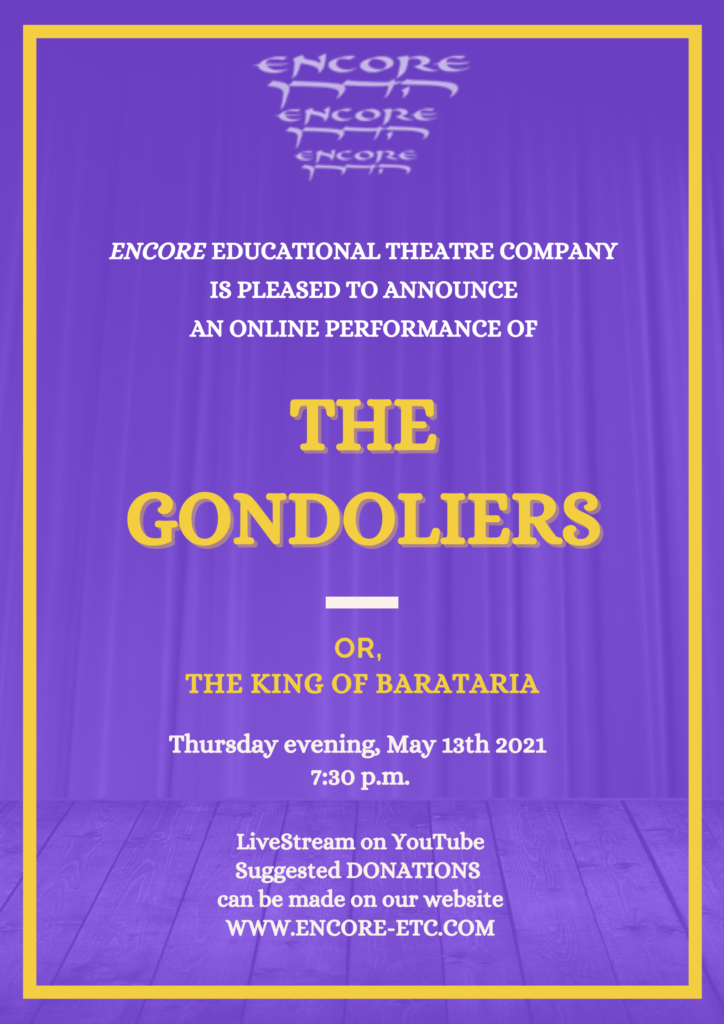 Encore Educational Theatre Company
Presents
an online performance of
Gilbert & Sullivan's
The Gondoliers
or,
The King of Barataria
performed with a stellar cast and full orchestra
conducted by Paul Salter
Stage Direction Robert Binder
Thursday evening, May 13th, 2021
7:30 p.m.
Performance was recorded live at the Hirsch Theatre in December 2013
Featuring
Rafael Apfel (Marco Palmieri)
Daniel Forst (Giuseppe Palmieri)
Aviella Trapido (Gianetta)
Maya Cohen (Tessa)
Miachael Sacofsky (Duke of Plaza-Toro)
Claire Greenfeld (Duchess of Plaza-Toro)
Maria Liyubman (Casilda)
Hanan Leberman (Luiz)
Jay Shir (Don Alhambra del Bolero)
Lucy Roth (Inez)
Elinor Kaufman (Fiametta)
Michael Ben Eliezer (Francesca)
Mordechai Buxner (Antonio)
Jerry Stevenson (Giorgio)
Moshe Trapido (Caesario)
Jonathan Mosheiff (Annibale)
Leora Elman (Rosalia)
Shlomit Kovalski (Guilia)
Yochai Greenfeld (Ottavio – Dance Soloist)
Shira Potter (Esperanza – Dance Soloist)
Staged by Robert Binder
Musical direction by Paul Salter
Choreography by Judy Brown
Sets Design by Roxane Goodkin-Levy
It is with great pleasure that we invite you to an online performance of Gilbert & Sullivan's The Gondoliers, which was originally produced at the Savoy Theatre, London in 1889 and presented by Encore! at the Hirsch Theatre, Jerusalem in 2013.
The performance will be streamed on YouTube HERE
The Libretto can be found HERE
The opera is set in the beautiful city of Veniceand the story concerns the young bride of the heir to the throne of the fictional kingdom of Barataria who arrives in Venice to join her husband to whom she was betrothed as a baby. It turns out, however, that he cannot be identified, since he was entrusted to the care of a drunken gondolier who mixed up the prince with his own son.
To complicate matters, the King of Barataria has just been killed. The two young gondoliers must now jointly rule the kingdom until the nurse of the prince can be brought in to determine which of them is the rightful king. Moreover, when the young queen arrives to claim her husband, she finds that the two gondoliers have both recently married local girls. A last complicating factor is that she, herself, is in love with another man.
Encore! offers you this musical masterpiece in appreciation for your encouragement and support over the years. Donations, of course, will be greatly appreciated, and may be made online,
or by bank transfer to our account at Bank Hapoalim (12), Talpiot branch (748), account 433643 in the name of Encore Educational Theatre Company. Charitable receipts will be issued, as requested.